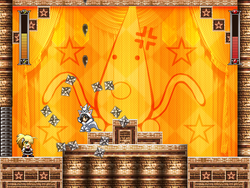 Geisterwand (ガイスターヴァント, Gaisutaavanto, lit. Mental Barrier or Ghost Wall), also known as the Mind Barrier (心の壁), is Schwer-Muta Casasola Merkle's main weapon and the weapon Spiritia Rosenberg attains from her. Schwer-Muta can create a circular barrier of maces that can harm her enemies on contact and protect her from almost any attack. She can also release the barrier to spread out through the area and attack them from a distance. For Spiritia, she can create a barrier as well, though it can only stand against one attack and it disappears after taking damage. Spiritia can also release maces that spreads throughout the area like Schwer-Muta by fully charging it. Unlike most shields in the Mega Man series Spiritia can change to other weapons while using Geisterwand.
In Rosenkreuzstilette, it is the weakness of Trauare Wrede and the Poltergeist. It also does a fair bit of damage against Schwer-Muta herself in the refights and when charged can pierce her own Geisterwand. This is a good tactic if the player feels like saving Zornesbombes for Iris Machine.
In Rosenkreuzstilette Freudenstachel, Schwer can throw single a Geisterwand mace forward that splits into four more Geisterwand maces. The Geisterwand barriers can also be generated by her dummies as well.
Gallery
Trivia
Weapons and Abilities in the Rosenkreuzstilette series