ローゼンクロイツスティレッテ
Rosenkreuzstilette
Developer
[erka:es]
Publisher
[erka:es]
Designers
Isemiya
WOMI

Version
Trial Version
0.04b (as of January 3, 2011)
Full Version
1.06b (as of January 3, 2011)
Release date
Rosenkreuzstilette
JP December 31, 2007
-[erka:es] The Best-
JP July 10, 2009
English Patch
Rosenkreuzstilette (C73) (Unofficial localization)
July 15, 2009
-[erka:es] The Best-
July 25, 2009
Rosenkreuzstilette (Official localization)
February 3, 2017
Genre
Action, platformer, Doujin soft
Mode
Single-player
Platform
Windows
Media
CD-ROM, download
System Requirements
OS
Windows XP/2000 or higher (requires DirectX)
CPU
Pentium 1.5GHz or higher
Main Memory
256MB or more
Graphics
Direct3D-compatible video card faster than VRAM64MB
Sound
Environment that supports Direct Sound
Free space during installation
350MB or more
Resolution
640 x 480px (windowed, default setting)
Input
USB Controller, keyboard
Rosenkreuzstilette (ローゼンクロイツスティレッテ, Rōzenkuroitsusutirette, lit. Stilettos of the Rose Cross) is a Japanese action platformer doujin soft game developed and published by [erka:es] and was released for Windows PC on December 31, 2007 at Winter Comiket 73. Rosenkreuzstilette's game mechanics are based off the original Mega Man series, though Rosenkreuzstilette uses a setting similar to Konami's Castlevania series. Rosenkreuzstilette makes various references to not only to the original Mega Man series, but as well as the Mega Man X and Mega Man Zero series, Castlevania, and other various video and computer games, anime and manga series, visual novels, table-top RPGs, and board games. A digital re-release of the game was later released as Rosenkreuzstilette -[erka:es] The Best- Edition on July 10, 2009. A second digital release was released on PLAYISM on November 26, 2013. The official English localization was released on Steam on February 3, 2017.
A sequel, Rosenkreuzstilette ~Freudenstachel~ was released in Japan on October 2012, and in English on Steam in October 17, 2017.
Gameplay
In Rosenkreuzstilette, the player takes control of Spiritia Rosenberg in traditional Mega Man fashion; navigating through enemy and trap laden stages, defeating the stage's boss at the end of each stage (in Rosenkreuzstilette's case, each of Spiritia's fellow Magi in the RKS) to copy their powers and using that very power against a boss who could be weak against it. After the first half of the game is completed by defeating all of Spiritia's friends in the RKS, the second half the game will begin at Count Michael Zeppelin's Castle, and ultimately end at a final set of stages where the true antagonist is fought.
Plot
Thousands of years ago, Magi, human beings with the ability to wield the power of magic existed. Since then, most of them had lost that power and only a few Magi were born. Those who were born with the gift of magic, however, were fated to live a life of being feared, hated, and persecuted by the Holy Empire and Orthodox Church. Finally, a great Magus, along with his eight disciples, stood up against their fate and fought a grueling battle against the Holy Empire and Orthodox Church. Ultimately, that very battle cost that great Magus his life, but his final wish came true when the Holy Empire had finally accepted Magi into their fighting force, thus creating the RKS, Rosenkreuzstilette: the Blades of the Rose Cross.
A few decades later, Spiritia Rosenberg, who acts as an instructor for the Imperial Army, returns home after six months of training in the Black Forest along with her fairy friend, Lilli. She was ordered by Count Zeppelin to see his daughter, Iris Zeppelin. They meet at the Imperial Training Hall when a dragon swoops in and abducts Iris. Lilli leaves in pursuit of the dragon and Spiritia is left alone to witness an attack at the Imperial Training Hall. Spiritia and Lilli reunited after finding the Black Forest was set on fire. The one who was responsible for forest burning was none other than Spiritia's childhood friend, Freudia Neuwahl. She, and most of the members of the RKS, have begun a new war against Holy Empire and Orthodox Church on Count Zeppelin's orders to claim dominance and end their persecution once and for all. Freudia asks her to join in the war's cause, but Spiritia refuses to be a part of it and does not agree with their methods. Branded as a traitor to the organization, Spiritia, along with Lilli by her side, embark on a quest to get to the bottom of this new war...
Characters
Main characters
Main eight bosses
Other characters
Enemies
Bosses
RKS Members
The bosses shown can be confronted in any order the player chooses, excluding the optional first Freudia Neuwahl battle, which always comes first if the player chooses to start from the Opening stage.
Zeppelin's Castle
Iris Palace
Weapons
Rosenkreuzstilette's main protagonist, Spiritia Rosenberg, is able to copy the powers of her fellow Magi upon their defeat. She also gains the ability to create platforms that can either help her reach higher places or glide across hazardous areas thanks to the two Silberflügel items she receives. She can also summon Lilli, her fairy friend, to assist her in battle once she finds a special item.
English Patch
Rosenkreuzstilette -[erka:es] The Best-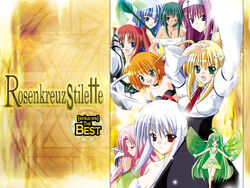 A digital re-release of Rosenkreuzstilette was released as Rosenkreuzstilette -[erka:es] The Best- on July 10, 2009. The digital copy of Rosenkreuzstilette can be purchased for ¥1260 Japanese yen (approx. $13.43 in U.S. Dollars) from either Melonbooks or DLsite (other languages for DLsite are also available for those outside of Japan who cannot speak or understand Japanese).
This version of Rosenkreuzstilette, however, does not have many differences from the original C73 release; The digital copy of the game has been pre-updated to Version 1.05c and implemented the Freudia Voice Enhancement files into the game. The problem with the documentations' broken links and compatibility issues with Windows Vista have been resolved. However, there have been no changes in the game's misspelling and grammatical errors found in the original release.
Steam Version
Trivia
Gallery
See Also: Rosenkreuzstilette Artwork
External Links
Community content is available under
CC-BY-SA
unless otherwise noted.