Not long after the Rosenkreuzstilette ~Freudenstachel's~ C75 demo was released in December 2008, fans of the series went to work creating modifications to the first game. The mods were popular among fans, and most of them were mods to change the sprites and portraits to make them as seen in Rosenkreuzstilette ~Freudenstachel~. Currently, all the mods released are only graphical mods.
Grolla's Grollschwert Mod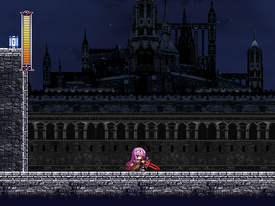 The first mod completed was a mod that gave Grolla Seyfarth the sword wielded by her grandfather, Raimund Seyfarth, as given to her in Rosenkreuzstilette ~Freudenstachel~. This mod also changes the slashing effect of her attacks and charging hexagram to red instead of purple. There are a few minor faults with this mod however; using this mod can cause a slight slowdown in the game's frame-rate, and this causes Spiritia's charging hexagram to become red as well.
Future Mods
Future mods will include a music mod as well as two sprite mods that would change Freudia's, Zorne's, Grolla's, and Liebea's sprites and portraits to those as seen in ~Freudenstachel~ and allow Spiritia Rosenberg to morph into the respective character of the weapon she is selecting. (such as selecting Lustatem would change Spiritia into Luste Teuber) A player mod that allows control over Hero of Justice Luste as seen in a screenshot from the ~Freudenstachel~ April Fool's site is also in development, despite an April Fool's joke about it already having been released prior to April 2009.