Jurassic World: Dominion Dominates Fandom Wikis - The Loop
Play Sound
ローゼンクロイツスティレッテ フロイデンシュタッヘル
Rosenkreuzstilette ~Freudenstachel~
Developer
[erka:es]
Publisher
[erka:es]
Designers
Isemiya
WOMI
Version
C75 Trial Version
0.01a (prototype)
C76 Trial Version
0.02b
C76 Web Trial
0.05a (as of November 13, 2009)
Current Web Trial
0.07a(as of December 11, 2011)
Release date
JP October 20th, 2012
English Patch
ENGOctober 17th, 2017
Genre
Action, Platformer, Doujin soft
Mode
Single-player
Platform
Windows
Media
CD-ROM, download
System Requirements
OS
Windows XP/2000 or higher (requires DirectX)
CPU
Pentium 1.5GHz or higher
Main Memory
256MB or more
Graphics
Direct3D-compatible video card faster than VRAM64MB
Sound
Environment that supports Direct Sound
Free space during installation
350MB or more
Resolution
640 x 480px (windowed, default setting)
Input
USB Controller, keyboard
Rosenkreuzstilette ~Freudenstachel~ (ローゼンクロイツスティレッテ フロイデンシュタッヘル, Rōzenkuroitsusutirette Furoidenshutahheru) often abbreviated as RKSF, is the sequel to Rosenkreuzstilette. Rosenkreuzstilette ~Freudenstachel~ was originally set for a Summer 2009 release, but was later delayed repeatedly, until its final release on October 20th, 2012. The main protagonist of Rosenkreuzstilette ~Freudenstachel~ is Freudia Neuwahl, who served as a major supporting character and boss in the original game.
Rosenkreuzstilette ~Freudenstachel~ was released on Steam, in English, on October 17, 2017.
Gameplay
Main article: Gameplay of the Rosenkreuzstilette series
Plot
Several months have passed since the events of Rosenkreuzstilette. A mysterious group of Dark Magi, captained by Pamela Arwig, have formed a new organization known as the Schwarzkreuz. The Schwarzkreuz abduct Spiritia Rosenberg and begin witch-hunting Magi for the church. Freudia Neuwahl sets off, along with her new fairy friend, Strudel, to fight the Schwarzkreuz, put an end to their witch-hunting scheme, and bring Spiritia back to the others at RKS.
Characters
Returning
Newcomers
Stages
Enemies
Main article: List of Enemies in Rosenkreuzstilette Freudenstachel
Bosses
RKS Members
As in the original game, the bosses can be fought in any order, excluding the optional first Eifer battle that always comes first if the player chooses to play the Opening Stage.
Eifer Skute (Freudia Neuwahl in ~Weißsilber~) (Opening Stage, optional)
Dolis Warmind
Zorne Zeppelin
Trauare Wrede
Luste Teuber
Grolla Seyfarth
Sichte Meister
Liebea Palesch
Schwer-Muta Casasola Merkle
Schwarzkreuz Members
After that, the Schwarzkreuz bosses will appear and can also be fought in any order.
Pamela Arwig (Kahl Palesch in ~Weißsilber~)
Eifer Skute
Schirach Fühler
Recht & Link Refraktia
Iris Palace
Weapons
In Freudenstachel, Freudia does not copy her defeated foe's powers like Spiritia did in the first game. Instead, Freudia learns more of her own techniques with each boss she defeats.
Steam Version
Development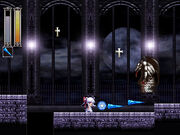 Rosenkreuzstilette ~Freudenstachel~ was first announced in early 2008 as an April Fool's Day joke. Several screenshots hosted on the Freudenstachel April Fool's site depicted Zorne and Trauare teaming up on Freudia, Grolla using Raimund Seyfarth's Grollschwert, Luste impersonating a superhero, and even Freudia taking on a different Iris Machine. Months later, the game was officially announced, and a boss design contest was under way. This contest produced six winning entries which provided the designs for the four Schwarzkreuz members, the new RKS member Dolis Warmind, and Freudia's fairy partner, Strudel.
[erka:es] originally planned to release Rosenkreuzstilette ~Freudenstachel~ at Summer Comiket 76, but faced unexpected delays, pushing the release date back to Winter Comiket 77. The first trial version of of Rosenkreuzstilette ~Freudenstachel~ served as a prototype of the game and was released as version 0.01a at Comiket 75. The prototype version simply showed off the new game system and level designs, keeping most other features, such as the music, voice acting, and some of the original graphics intact. The C75 Trial featured Zorne, Grolla, and Liebea as available bosses. Despite the entirely new battles they offered, Zorne was the only character to receive a redesign to her sprite.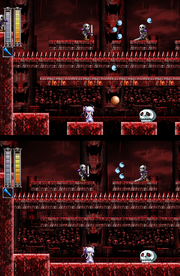 At Comiket 76, a second trial version was released that featured several changes, setting Rosenkreuzstilette ~Freudenstachel~ more apart from its predecessor. New additions included new musical tracks for some of the stages and a playable Prologue stage (the data was present in the original but was locked out) with Eifer Skute as a boss. Liebea Palesch cannot be fought in this trial, but is replaced by Sichte Meister. The game also featured newly-recorded dialogue for all the featured characters.
[erka:es] released the 0.04a patch for the demo, which fixed a few bugs (namely a glitch that caused the Game Over screens to be blank) and lowered the overall difficulty level. There has been some criticism for this, as while some find the patch made the game accessible for people less skilled at the game, others felt it made the game too easy. [erka:es] has addressed many of the criticisms, and the finalized changes were revealed with the release of the full game in December.

Passwords from the previous game can be used to access both Arcade Mode and Story Mode and save on a replay (.rpy) file, but no in-game dialogue will appear in the Web Trial version of Rosenkreuzstilette ~Freudenstachel~. It is also possible to obtain Freudia's Freudenzwinger, which was removed from the C76 Web Trial version of Rosenkreuzstilette ~Freudenstachel~ when Liebea Palesch was removed from the demo, by using a password. [1]
In Winter 2009, [erka:es] had announced that they would not be participating at Winter Comiket 77 due to unfortunate circumstances. With that said, Rosenkreuzstilette ~Freudenstachel~ would not be released until Summer Comiket 78, which would be held around August 14th, 2010. However, on August 8th, 2010, Isemiya announced that due to lack of development on the project, ~Freudenstachel~ would be delayed even further to December 2010, when Winter Comiket 79 would be held.
During December 2010, it was discovered that [erka:es] would not be attending Winter Comiket 79 according to a Comiket catalogue, thus implying that ~Freudenstachel~'s newly scheduled release date will be next August, during Summer Comiket 80. A month later, Isemiya conformed that progress on ~Freudenstachel~ had resumed, and it is expected not to be delayed for a fifth time.
In March 2011, an April Fool's joke appeared making RKS fans think that just like the original game, Rosenkreuzstilette ~Freudenstachel~ would also have an alternate mode, this one having the classic Castlevania playstyle that keeps true to the franchise's Castlevania motif, and the main protagonist in that alternate mode being Kahl Palesch, Liebea Palesch's older brother who was previously imprisoned by Count Michael Zeppelin in the original game. Later that year, fans began to spectate that Isemiya had left the development team, leaving WOMI to program the game solo. Eventually, evidence on WOMI's diary on the [erka:es] official website revealed that Isemiya had been the main source of delay in the development of RKSF and had withdrawn from the development team. Since then, development sped up drastically.
As time passed, the artwork for the game was eventually updated, and a new Trial version was released with updated stages, new enemies, and updated attack patterns for the bosses (It also contains a new track for Grolla's stage and a new, more intense regular boss battle theme). The title screen and the password, replay, and options menus were also updated. The final version was released on October 20, 2012.
In Februrary 2013, WOMI announced he was making a new directors cut of Rosenkreuzstilette ~Freudenstachel~ with "reconstructed" enemies, stages and a different protagonist. So far, WOMI teased an edited stage, a new boss or midboss based on CWU-01P from the Mega Man series, and the fact the protagonist would have a standard buster attack. However, as of now, no other word has been made about the directors cut for many years, and it is currently unknown whether or not it will ever see a release.
On November 26th, 2013, Rosenkreuzstilette ~Freudenstachel~ was re-released on PLAYISM. The official English version would later see a Steam release on October 17th, 2017.
Artwork
See also: Rosenkreuzstilette Freudenstachel Artwork
External Links