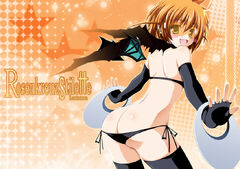 Rosenkreuzstilette ~Lustatem~ was an April Fool's joke announced by WOMI in the year 2013. While it was a joke, the materials from it have been uploaded to the wiki for posterity as the website has since been taken down.
Gameplay
The gameplay of Lustatem seems it would have used Mega Man mechanics as a base but have an open world similar to the Metroid series and later Castlevania games. There would also be costume aspects of the game that could be received from bosses or gifted to NPCs or other bosses, which when worn by Luste would grant her their respective abilities and powers. It would also have incorporated upgrade mechanics, most notably the "Sexy Hero" model that would cause Luste's body to grow into an older version of herself, matching her age with the adult females, upgrading her core abilities and strengthening her health to 82 hit points.
Artwork and assets
Characters
Merchandise
In addition to the fake screens and character profiles there was also a section for fake Rosenkreuzstilette Merchandise being made to promote Lustatem .